Nowadays, having a gym membership has become a necessity.  Making yourself used to regular training is one of the best things that you can do for both your body and mind. But do you know what's even better than that? Bringing your significant other with you to the gym to enjoy a couple's workout, not only will it make the training session so much more fun, but also brings happiness to your relationship, increases your bond, and establishes a mutual commitment to staying fit. But do gyms offer this possibility? Particularly, does planet fitness offer a couples membership?
Unfortunately, Planet Fitness doesn't offer a couples membership, however, with their Black Card Membership, they do allow you to bring a guest for free every time you workout, and that includes your significant other. 
In this article, we'll talk more in-depth about if Planet Fitness offers a couples membership and the cheapest way to train with your partner.
Does Planet Fitness Offer a Couples Membership?
Nothing beats going to the gym with your partner, I personally used to do it all the time and I enjoyed every single of it. Seeing your significant other hard at work in order to become the best version of themselves is honestly one of the best things that can get you motivated.
Unfortunately, as I mentioned in the beginning, Planet Fitness doesn't offer this possibility. I remember when I first tried to sign up with them, the first question that I asked was whether or not they offer a couples membership.
The guy that was charged with talking to potential clients said that this service was not something that they offered. When I asked about the reason why, he simply declared that they had other memberships that would benefit us more and he was referring to the Black Card Membership which we'll talk about in the next section.
But I can guess why there isn't this possibility at Planet Fitness (it's pretty rare at other gyms too).
First of all, as a business owner, you want to be as profitable as possible, making a custom membership that allows two people to access the gym at a single price point is not a smart move.
In addition to that, couples memberships are not something that is stable in the long term since we all know couples can break up at any time.
Let's assume that Planet Fitness offered this service, imagine if a couple sign up, then the next day they decided to break up, what would happen with their mutual membership? I'm sure that in order to cancel it, it would need the presence of both partners. What if they're really angry at each other to the point where they refuse to meet or stay in the same room?
I'm sure that they would come up with solutions like online cancellations but why would they even bother with offering this service if it's not stable, comes with many flaws and problems, and could backstab them eventually?
With that being said, the closest thing to a couples membership is the Black Card Membership but that has limitations.
Does Planet Fitness' Black Card Membership Work For Couples?
Although Planet Fitness doesn't offer couples memberships, they do offer a sweet deal with their Black Card Memberships.
With this $29 per month offer (which could vary according to the location of the gym), you get the ability to access all the amenities within your local gym (access to the gym, unlimited training time, tanning, massages, advanced machines, and so on) and the best thing about it, you get to bring a guest with you for free every time you train! And this guest can be anybody from a friend, a member of a family, or a partner.
However, there are a couple of downsides to this. First of all, only the owner of the Black Card Membership has full control. This means that if you own it, your partner won't be able to work out alone unless you're there with him which can get pretty annoying sometimes, especially if your partner wants to hit a quick session alone.
In addition to that and according to your location, your partner may be only authorized to use gym equipment and not the other amenities such as tanning, massages, total body enhancement machines, and so on. But this could vary from one Planet Fitness gym to another. 
In other words, if your partner doesn't mind these limits, then a Planet Fitness Black Card Membership will work for you as a couple.
What's The Cheapest Way for a Couple to Train at Planet Fitness?
Let's take a look at all the possibilities and choices that you have at Planet Fitness as a couple: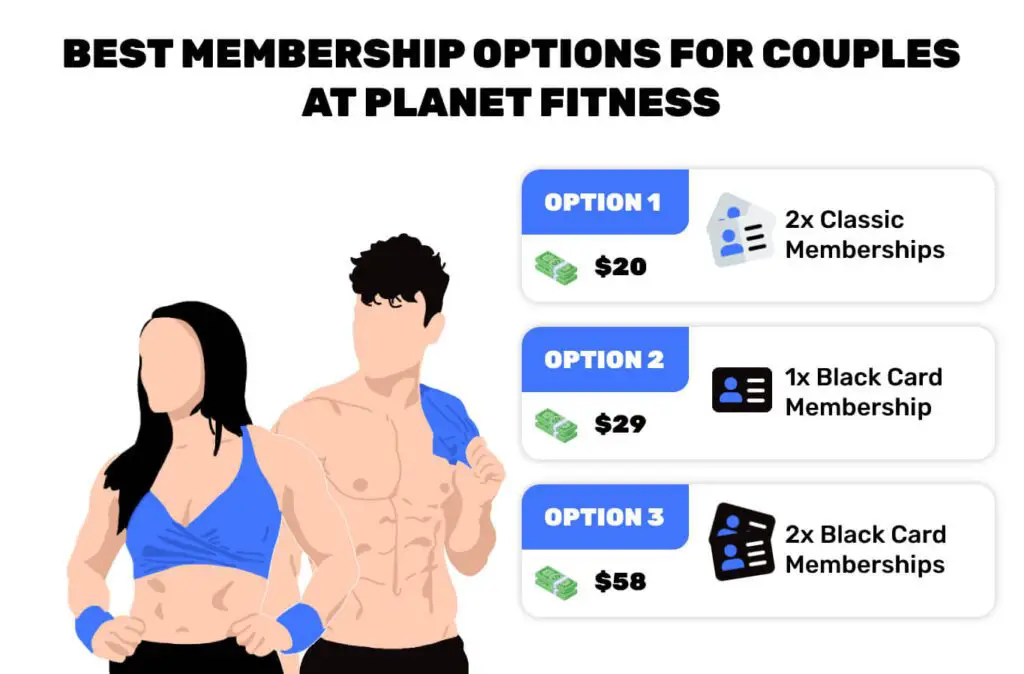 Option 1: You Both Get a Classic Membership
The cost of a single classic membership is $10 per month which means that it would cost $20 per month in total (could vary according to each Planet Fitness) for both of you.
Pros:
You both get unlimited access to your local gyms
You both get free fitness training
The cheapest way for a couple to train
Ability to access the gym alone
Cons:
You're both limited to your local gym
You both can't access the gym's other amenities such as tanning, hydromassages, total body enhancement, and so on.
Option 2: One of You Gets a Black Card Membership
The cost of a single Back Card Membership is $29 (which could vary depending on the location) and that's all it's gonna cost.
Pros:
You can both use any Planet Fitness worldwide
One of you can get access to extra amenities (or both depending on the gym's discretion)
Discounts
Cons:
If you own the Black Card Membership, your partner can't train alone
Partner (Black Card guest) may be limited to certain amenities
Option 3: You Both Get a Black Card Membership
The total cost of this will be $58 which is the cost of two Black Card memberships (and this could vary depending on the location).
Pros:
You both get unlimited access to any Planet Fitness gym worldwide
You both can train alone if you want
You both get access to all the extra amenities without fuss
You both get discounts
You both have the ability to bring guests
Cons:
Conclusion:
Even though Planet Fitness doesn't offer a couples membership, you still have a lot of possibilities that can work well with you and your partner.
So sit down with your significant other, discuss all the choices and possibilities that you have with the help of this article, and come up with a final decision that satisfies you both.
Based on my own personal experience, The second choice (one of you gets a Black Card Membership) is what works best for couples and it is the most cost-efficient.