When it comes to rock climbing, choosing the best harness that fits right could be the main difference between a good climbing session and a bad one. It's an essential tool that everybody needs to pick carefully since it has to fit right, be comfortable, and most importantly, get the job done. And for skinny guys particularly, finding the best climbing harnesses that provides all these criteria is a challenging task. That's because most brands don't adapt their products for skinnier body shapes. With that being said, We've looked all over the internet to find and test the best climbing harness for skinny guys. This selection was based on quality, fit, comfort, and people's testimonials.
In this article, we'll talk about how climbing harnesses should fit skinny guys, as well as the best ones currently on the market.
How Should Climbing Harnesses Fit Skinny Guys?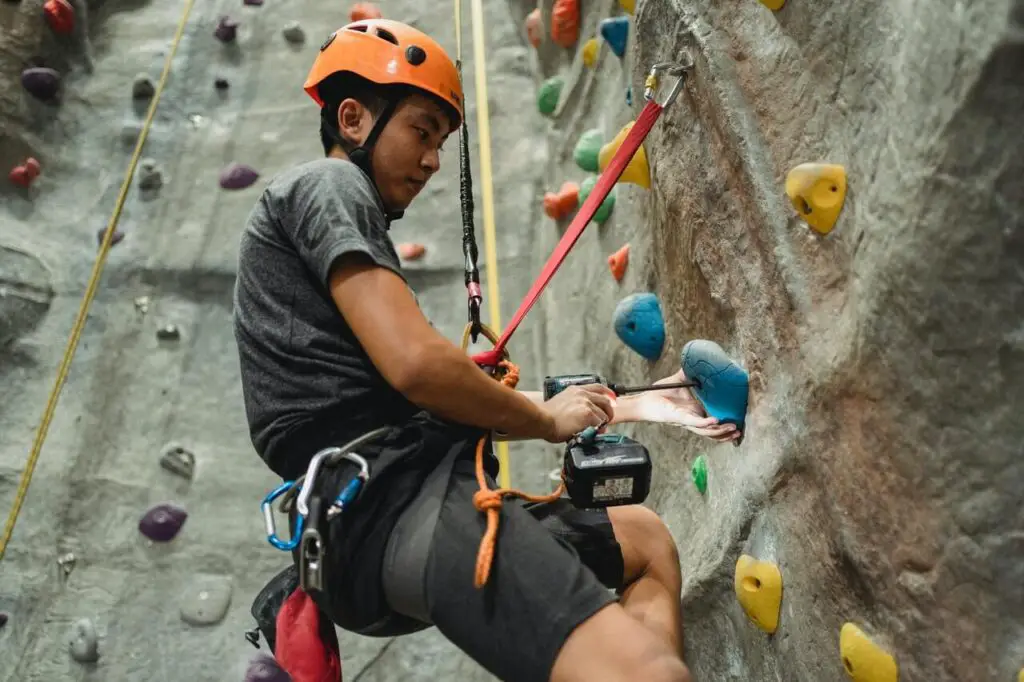 As a skinny guy, I understand how frustrating it can get, not only to find the best fitting climbing harnesses but also pieces of clothing in general. Your body shape and skinny arms and legs limit your options and make it more difficult for you to choose.
In order to find the perfect fit for your climbing harness, you need to look at three main components, the waistband, leg loop, and the back straps. They all work in harmony to bring you the right fit and comfort.
Let's take a look at how each component should fit:
Waistband
This is the most important part of the climbing harness and the one that should fit perfectly. That's because if it doesn't, you'll feel so much uncomfortable since it sits around the waist which is a pretty sensitive part of the human body.
The first thing that you need to do is to measure the size of your wait. That's because most brands will have a guideline chart to identify the right size according to your waist measurement.
Place the waistband a little bit above your hip and tighten it so that it doesn't fit too loose but also not too tight.
If you do it and it sits comfortably around your waist, then the harness that you chose passed the waistband test.
Leg Loops
Leg loops are also an important component of a climbing harness since the waistband by itself isn't enough to keep you balanced while hanging on a rope. And because it sits around the legs, it should fit perfectly otherwise it's just going to make uncomfortable.
Just like your waist, you also need to measure the circumference of your legs in order to find the best fit according to each brand's sizing guideline chart.
Before trying on the leg loops, make sure that the waistband fits perfectly first since they both go together in harmony and right-fitting leg loops are useless if the waistband doesn't fit right.
Make sure to tighten the leg loops until you can comfortably fit your hand between them and your legs.
After you do everything correctly, your legs should have a full range of motion. If that's not the case, then the leg loops are probably too tight or the back straps which we'll see in the next section are limiting your movements.
Back Straps
This is probably the first time you're going to hear this term since it's pretty obscure when it comes to climbing harnesses. I'm talking about the part that connects your legs to the back part of the harness. It's not as important as the other components but as a skinny guy, you need to pay attention to every detail.
Before even taking this part into consideration, both the waistband and leg loops need to fit perfectly since they're the most important in terms of comfort.
If your leg loops aren't too tight but you still can't move your legs comfortably then it's probably because of the back straps.
If that's the case, then you should loosen them up a little bit, or find other climbing harnesses that have longer back straps since not all of them are adjustable.
Make sure to test the back straps while hanging from a rope since that's the ultimate test for it.
The right fit of the back straps will allow you to comfortably hand on the rope while using little to no core strength at all. If that's not the case then test all your available options until you're satisfied.
The Best Climbing Harnesses For Skinny Guys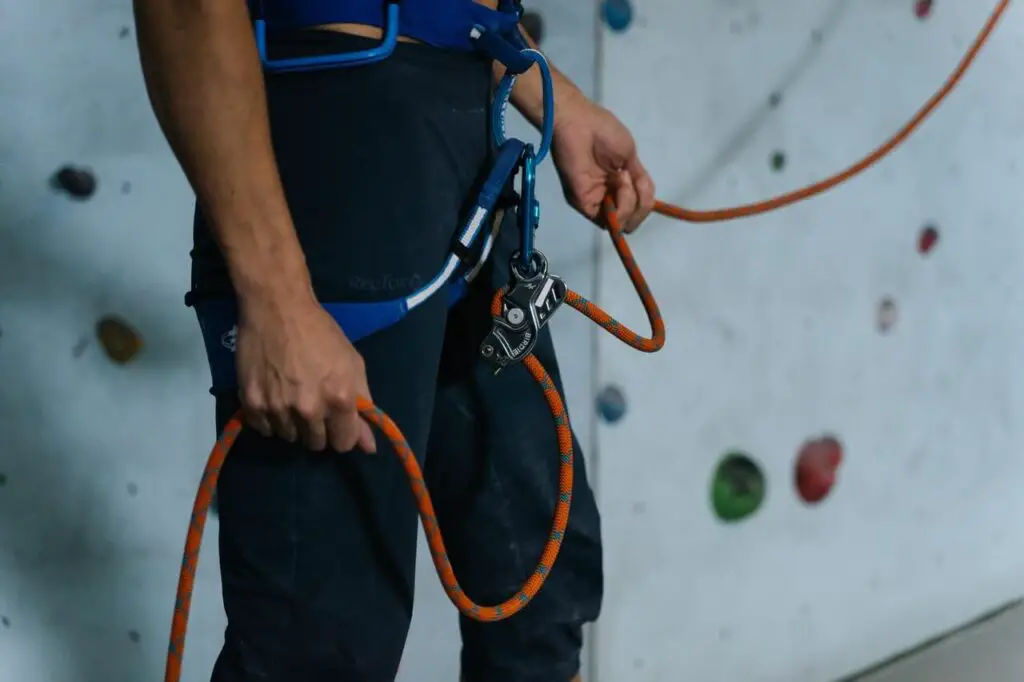 Here is a list of the best climbing harnesses that have been proven to work for most skinny guys:
Black Diamond Equipment's Solution Harness – Men's
This is of the best climbing harnesses for skinny guys. They provide the ultimate comfort and quality for all body shapes. With their Fusion technology, they're able to offer superior load distribution between the waistband and the leg loops while reducing all sorts of pressure around sensitive points. Designed to fit the contour of all body shapes, they guarantee freedom of movement and comfort without affecting performance.
Features:
Lightweight
Contoured fit for ultimate comfort and movement
Adjustable elastic risers
Misty Mountain's Sonic Harness – Men's
This brand provides high-end masterpiece climbing harnesses for all body shapes. This product is fairly superior compared to its competitors since it provides an enlightened design and craftsmanship. And it's perfect for skinny guys because of the different sizes that they offer.
Features:
4 reinforced gear loops
Lightweight
Adjustable leg loops
Adjustable "quick" buckles
Singing Rock Top Rental
This is one of Singing Rock's top-rated products simply due to its quality, comfort, and adaptability to all body shapes. They deliver all the points mentioned in this article about how climbing harnesses should fit skinny guys and you won't be disappointed with your purchase. And it's perfect for beginners.
Features
Non-openable buckles
Adjustable back straps
Comes in different sizes that adapt to all users
Dries quickly
Reinforced tie-in loop
C.A.M.P. Energy CR3 harness
This is the ultimate package for beginners that includes a versatile climbing harness that fits all body shapes, a multi-functioning belay device, and a locking carabiner. This product is engineered perfectly for lightweight versatility and comfort, making it the best for all kinds of rock climbing activities that vary from the gym all the way to sports and traditional climbing.
Features:
Includes three pieces for the price of one
Buckles auto-lock on the waist and legs, giving a quick and secure fit
Thermoformed padding on the waist and legs
Adjustable leg loops
Certified by the International Climbing and Mountaineering Federation
Conclusion:
As you can see, even skinny guys have multiple options to choose from. All that matter is that you follow the right guide mentioned at the beginning of the article in order to verify if the climbing harness truly fits or not. And if you have a local climbing gear store near you, then I highly recommend choosing a harness there since most of them offer climbing walls or rope to test the hanging of their products.
And besides rock climbing, there are many sports that skinny guys can do. That even includes weight-lifting if you want to change your body shape for good and never have to worry about the right fit of your clothing.