It's that time of the year again! Temperatures start to raise, vacation flights start to get booked, people go out more, and most importantly it's the time when you get to show off your summer style. If you're a fashion enthusiast like me, then it's most likely that you want to look the best on every occasion. With that being said, skinny guys tend to feel a lot less comfortable with what to wear during summer since most of the time, they have to wear fewer layers and show their skinny bodies.
However, during this season, skinny guys can actually pull off some amazing looks while embracing their body shape. It's like summer was meant for them!
So to save you the time of trying out different styles for yourself and coming up with the best one that fits you right, I put together a list of a variety of outfits that skinny guys can wear during summer to look and feel the best.
The Right Mindset For Skinny Guys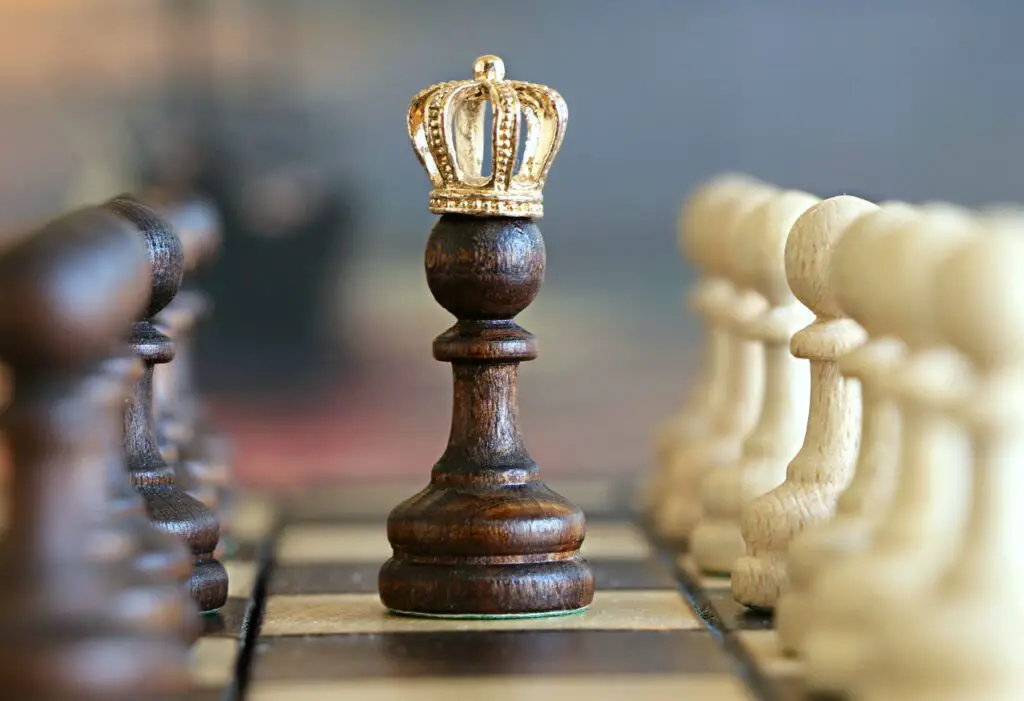 Before getting into the list of outfits that skinny guys wear during summer, we need to get something out of the way first. And that is the right mindset and mentality that you need when it comes to fashion. When trying to choose what to wear, you simply shouldn't care at all what other people might think of you. All that matters is that you feel comfortable and happy with what you're wearing.
I've learned this the harsh way because ever since I was a kid, I was literally like a stick and I always felt uncomfortable and self-conscious with what I'm wearing. I would constantly prioritize people's opinions over my own comfort. And to put this into perspective, during the summer times, I used to wear a lot of layers even though it was super hot outside just to avoid looking skinny. I sacrificed my own comfort in order to please others. That's absolutely the wrong mindset to have!
When I started to change the way I think, I slowly built up confidence and started wearing clothes that fit me right and embraced my body shape. And you know what happened then? I would get a lot more compliments because I simply looked super confident with myself and the way I look.
Do you like a certain shirt? Then go ahead and wear it. You shouldn't be asking yourself if it looks bad or not, instead, you should ask if you feel comfortable and happy in it. With that mindset, you'll conquer the world starting by embracing your skinniness.
Read more: Are Skinny Guys Attractive.
The Best Summer Outfits For Skinny Guys
As I mentioned earlier, you can wear absolutely anything you want as long as you're comfortable and happy. Here are some outfits to get you inspired and that look great on skinny guys.
T-shirt & shorts
This is pretty much the most basic and easiest thing that you can wear during summer and that looks good on skinny guys as well. You can never go wrong with a basic white t-shirt that fits right paired with some black shorts and white sneakers. The comfort that you're gonna feel with this combination is out of this world. And the best part is, that it can be worn casually or even during formal events. Even if you have skinny legs or skinny arms, with the right mindset, you'll look just as confident and good as any other body shape.
Floral Shirts & Shorts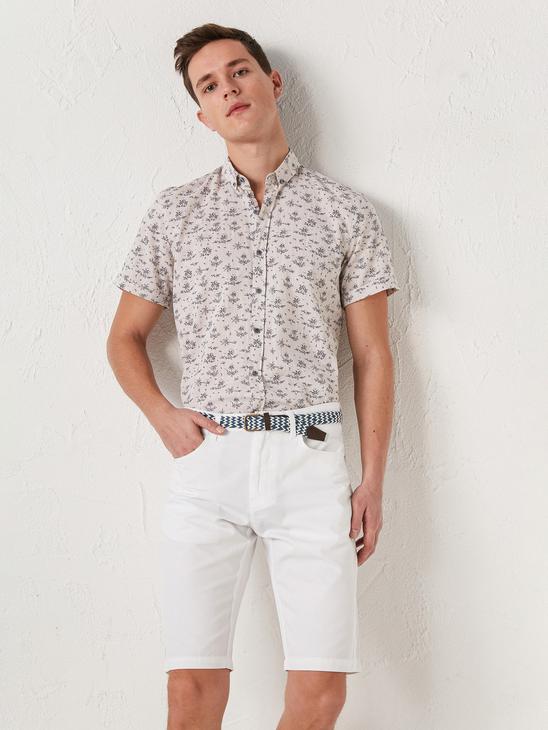 This is my absolute favorite! I don't think I've ever spent an entire summer without wearing this beautiful combination. Floral shirts give such a cool look that you won't find in any other piece of clothing. Pair it with some white shorts and casual sneakers and you're in business! Wearing this sort of outfit will definitely make you stand out from a group even if you're skinny. Just make sure that the shirt hugs your arms and isn't too loose in that area since any excess fabric will just make your arms look even skinnier.
You can also reverse the look by wearing a short with flower patterns and a white shirt.
Tank Tops & Shorts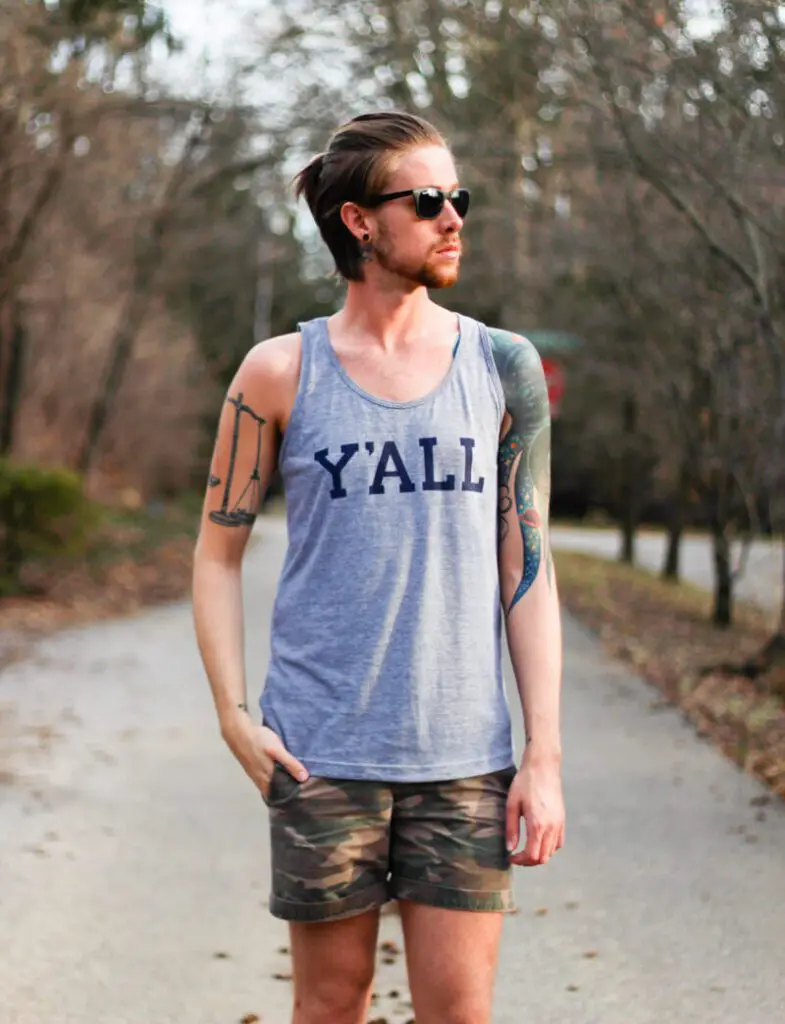 Who said that tank tops don't look good on skinny people? As a matter of fact, even skinny folks like us can pull them off so why miss out on them when they give the most comfort during summer times. And I promise that with the right fit of your tank top, people will find you a lot more attractive since you're embracing your body shape and not afraid to show your skin. As a bonus tip, make sure that your tank top has some kind of graphic that represents your style and drives people's eyes towards it.
T-shirt Underneath Shirt & Jeans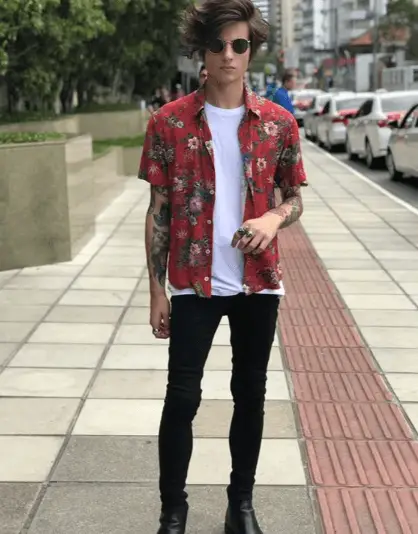 This is the best option if you're still too uncomfortable showing too much of your skin. In fact, wearing a t-shirt underneath a well-fitted shirt can somewhat make you bulkier and give off the illusion that you're bigger. I'm pretty sure that only skinny guys can pull off this look the best. You'll never go wrong with a basic white t-shirt underneath a shirt that matches it well with rolled-up sleeves paired with some black ripped jeans and white sneakers.
Shirt & Short Combination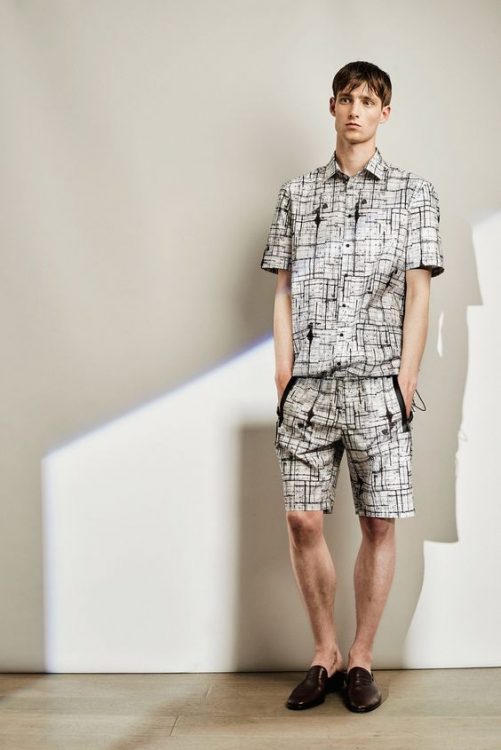 This is the summer outfit that's recently been trending in the fashion world. I'm talking about a shirt and shorts that have the same style and patterns. Just like a short version of a onesie, this type of outfit emphasizes your body shape and makes you look super attractive. And it's great and unique for those summer formal events. If you want to stand out and be as comfortable as possible, then wearing a shirt and short combination is your best bet!
Conclusion:
Summer is for sure the favorite season of many people, and it's when they get to show their fashion sense and style to everybody. That's why being skinny shouldn't stop you from showing who you are and looking the best. If you follow the right mindset and get inspired by all the different outfits mentioned in this article, then I promise you that your next summer will be your favorite.