In the fashion world, hoodies have slowly gained popularity and become one of the best pieces of clothing that suit any season. They are the staple of comfort and coziness. If you're ever indecisive about what to wear for your next occasion then hoodies are always the easiest and the best option to go for. They can be worn casually and even formally if you know what you're doing. With that being said, being a skinny guy the majority of my life, I've always struggled to find the right fit for my hoodies. They're either too short, too long, too baggy in the mid-section or simply look terrible on me. And throughout the years, I've tried and tested multiple ones to come up with a list of the best hoodies for skinny guys.
In this article, we'll talk about the best hoodies for skinny guys, their benefits, and how they can be styled in some unique ways.
Benefits Of Wearing a Hoodie For Skinny Guys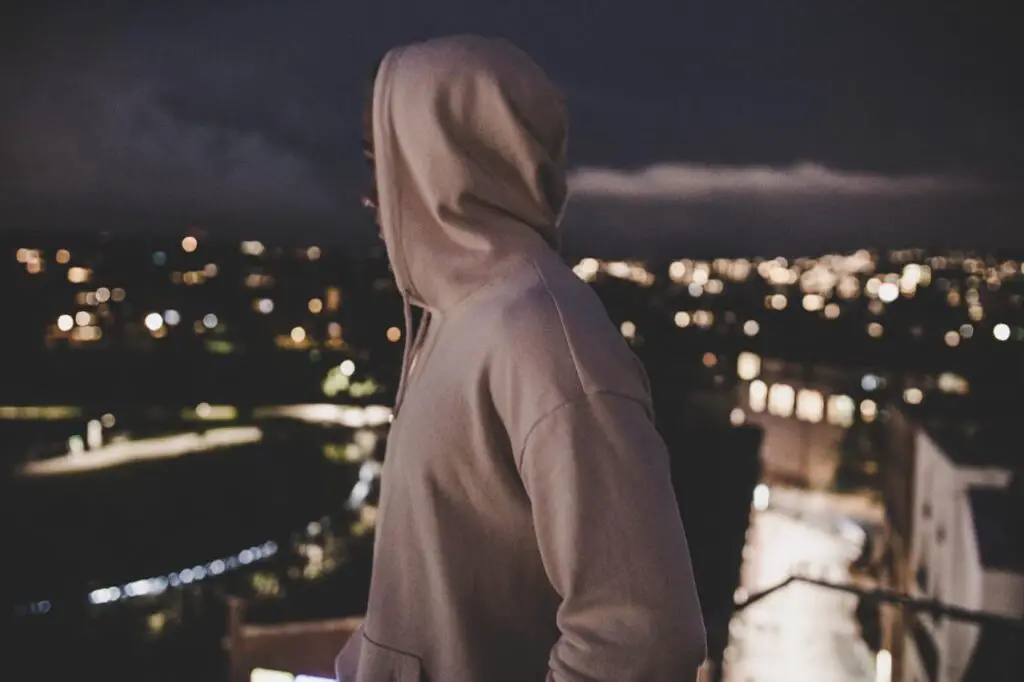 You may think that hoodies are simple pieces of clothing but they actually offer a lot of benefits, especially for skinny guys:
They Make You Look Big
This is the best thing about hoodies for skinny guys. If you're too self-conscious about your body shape and prefer to hide it, then this piece of clothing is your best option. Not only will it achieve that, but it will also make you look bigger than you actually are. That's why choosing the right fit for your hoodie is crucial, you want something that isn't too tight since it will only emphasize your skinniness, but you also want to avoid something that's too baggy because it makes your head and neck look small which is terrible for skinny guys. 
They Are Warm
Depending on the type of fabric the hoodie is made of, it's a great way to stay warm, especially during those winter days. But the best part is that it can also be worn in spring times, more particularly during the night. And it is often recommended for people preparing to travel to always bring a hoodie with them if they're too unfamiliar with the type of weather in their destination. And even during the summer, you can throw a hoodie on top of your t-shirt and remove it whenever you feel hot. 
It Can Be Worn With Anything
The great thing about hoodies is that they fit all sorts of styles and you can wear them with absolutely anything. If you want a more sporty look, wear them with a pair of joggers and some sneakers. If you want a more casual look, pair them with some jeans and white shoes. You can even get creative and use it as a layering option with a long coat or a jacket. Whenever you choose to wear a hoodie, you'll never go wrong with your outfit and you'll always look good.
How To Wear a Hoodie as a Skinny Guy
Wearing a hoodie by itself is great especially when the weather is starting to get warmer. However, during the winter days, as a skinny guy, you should consider layering your hoodies with other pieces of clothing to look big and stylish at the same time. Here are some of the best ways to wear them for skinny guys:
Layer it With a Bomber Jacket
Bomber jackets are also rising in popularity, especially during these last couple of years. And they look fantastic when paired with a hoodie. It gives off a unique sporty or casual look depending on the type of pants that you choose. One of my favorite ways to style this type of outfit is by choosing darker colors for the hoodie and pants and lighter ones for the bomber jacket. 
Layer it With a Long Coat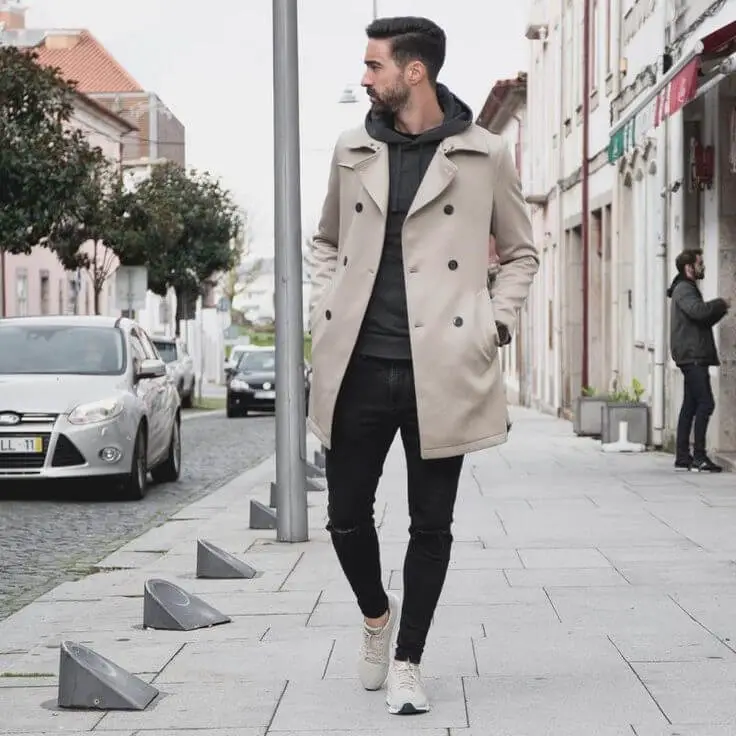 This is not your typical way of styling a hoodie, but, if you do it right, it's definitely one of the best ways which will make you stand out from the crowd and grab everyone's attention towards you. And many people think that coats are only meant for formal wear, but little do they know that they can also be worn casually if you pair them with a hoodie. And just like a bomber jacket, it makes you look bigger in size so it's the perfect outfit for skinny guys.
Layer it With a Denim Jacket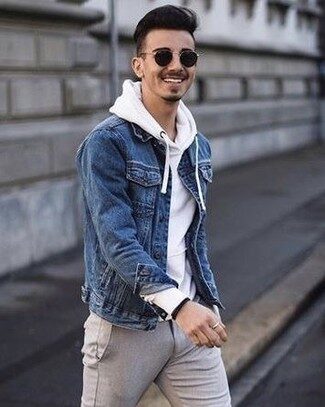 Blue denim jackets are some of my favorite pieces of clothing that work well with t-shirts, shirts, turtle necks, and especially hoodies. If you want to achieve a look that's stylish, casual, and cool, then pairing denim jackets with a hoodie is your best option. And for colors, I personally tend to lean towards white or grey hoodies with a light blue denim jacket, and some black slim-fit pants paired with some white sneakers. 
And as a bonus, this also works great with leather jackets.
Best Hoodies For Skinny Guys
Here are some of the best brands of hoodies that fit skinny guys well, just make sure to follow the size guide in order to find the best fit for your body shape:
Notice: I'm not affiliated with any of these brands, and they are simply my own personal recommendations that worked well for me.
Conclusion:
As you can see, hoodies are considered some of the best pieces of clothing that skinny guys can wear simply because it makes them look bigger, provides warmth, it's super versatile, and can be styled in many ways according to your own creativeness. And if you've always struggled to find the right fit for your hoodies, then I guarantee you that the brands I mentioned are going to fit you perfectly.