OrangeTheory is becoming one of the best fitness studios out there. During these last couple of years, It's been competing with established brands such as YMCA, F45, and even Planet Fitness. This is because they managed to come up with a fun alternative to the typical training routine that many of us despise. Instead of going to the gym and creating your own set of exercises and workout routines, OrangeTheory does that for your and provides you with unique daily classes, challenges, and events that all of its members can enjoy. And if you want to be part of their cult, all you have to do is choose between their 3 levels of memberships: Basic, Elite, or Premier. With that being said, how much do these cost in Chicago? In other words, what are OrangeTheory Chicago prices?
OrangeTheory membership prices in Chicago vary between $69 to $79 for a Basic Membership, $119 to $129 for an Elite Membership, and $189 to $199 for a Premier Membership.
In this article, we'll talk about OrangeTheory's prices in major Chicago neighborhoods, their difference from other locations, as well as some cheaper alternatives.
OrangeTheory Chicago Prices List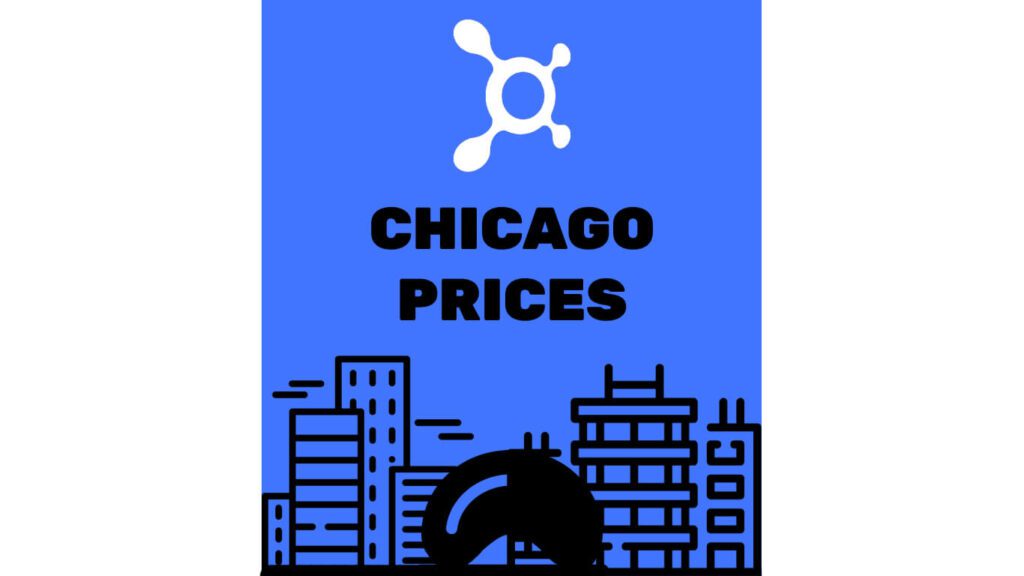 Although there are a lot of variations when it comes to the different prices of OrangeTheory's memberships (location, whether it's considered a premium studio, increases in price, promotions, and so on), I tried to compile a list with the most accurate (but may vary) information about the prices of each studio located in Chicago based on what other people pay, and here it is:
| | | | |
| --- | --- | --- | --- |
| Location | Basic membership price | Elite membership price | Premier membership price |
| Lakeview | $69 | $119 | $189 |
| West Loop | $79 | $129 | $199 |
| South Loop | $79 | $129 | $199 |
| Roscoe Village | $79 | $129 | $199 |
| Lincoln Square | $79 | $129 | $199 |
| Lakeview | $79 | $129 | $199 |
| River West | $69 | $119 | $189 |
| River North | $79 | $129 | $199 |
| Wicker Park | $69 | $119 | $189 |
| Logan Square | $79 | $129 | $199 |
As you can tell from the list, the majority of OrangeTheory's Chicago locations have the same membership prices which are $199 for Unlimited, $129 for Elite, and $79 for Basic.
The main reason behind this is that most OrangeTheory's franchises in Chicago are owned by the same person, so there is no need for price variations from one studio to another.
It's also a good idea to contact your local studio beforehand in order to get the most accurate information about the prices.
OrangeTheory Chicago Prices vs Other Locations
Based on the list above, you've probably noticed that OrangeTheory memberships in Chicago are pretty expensive, especially if you compare them to locations in other cities.
On average, a Basic OrangeTheory membership costs around $59, while an Elite one costs $99, and an Unlimited one $159.
However, in Chicago, most studios have a surcharge of $20 to $40, and that's because they're all considered premium locations, meaning that they're located in areas where the cost of living is pretty high and so is the cost of maintaining a business such as OrangeTheory. This is the same for New York, Washington, D.C., and so on.
OrangeTheory Cheaper Alternatives in Chicago
If you find that OrangeTheory's membership prices are too expensive for you, here are some cheaper alternatives that you can try out:
Studio Three
This fitness studio is one of the best ones located in Chicago. It has everything from cycling, yoga classes, and HIIT session, so it's about as good as OrangeTheory (if not better). Membership and class packs vary from $60 all the way to $199 for unlimited access to all perks.
In addition to that, they have three different locations in Chicago so there is probably a Studio Three near you. 
Train Moment
This one in particular is pretty much the same as OrangeTheory. The classes are led by coaches so it's perfect for someone that's looking for guidance when it comes to lifting weights. They offer simple and straightforward workouts that everyone can enjoy. 
And although Train Moment's membership is more expensive (we're talking $249 for unlimited classes), they do have a special $32 offer for new members where they get unlimited classes for 2 weeks which I think everyone should try out first.
Sweat
If you're looking for a fitness studio that has the same concept as OrangeTheory but is focused more on strength training, then Sweat is your best option.
It's a local family-owned business that strives to bring the best fitness experience to all of its members. As soon as you walk into their studio, you're gonna feel welcome since they consider everybody to be part of their family. 
And to top it off, since it's a local business, prices aren't that expensive. For example, you can enjoy 12 classes per month for only $174. They also have a special promotion for new members that consists of unlimited classes for a whole week for only $59.
Conclusion:
OrangeTheory's membership prices may be expensive in Chicago, but at the end of the day, every last dollar that you spend isn't wasted. In fact, it should be considered an investment since you're using it to improve your health, lead a fitness lifestyle, and reach your body goals. If those goals come at a certain price, then it's well worth it.