OrangeTheory is becoming one of the best fitness studios out there. During these last couple of years, It's been competing with established brands such as YMCA, F45, and even Planet Fitness. This is because they managed to come up with a fun alternative to the typical training routine that many of us despise. Instead of going to the gym and creating your own set of exercises and workout routines, OrangeTheory does that for your and provides you with unique daily classes, challenges, and events that all of its members can enjoy. And if you want to be part of their cult, all you have to do is choose between their 3 levels of memberships: Basic, Elite, or Premier. With that being said, how much do these cost in Los Angeles? In other words, what are OrangeTheory's Los Angles prices?
OrangeTheory membership prices in Los Angeles vary between $69 to $89 for a Basic Membership, $109 to $129 for an Elite Membership, and $179 to $199 for a Premier Membership.
In this article, we'll talk about OrangeTheory's prices in Los Angeles, their difference from other locations, as well as some cheaper alternatives.
OrangeTheory Los Angeles Prices List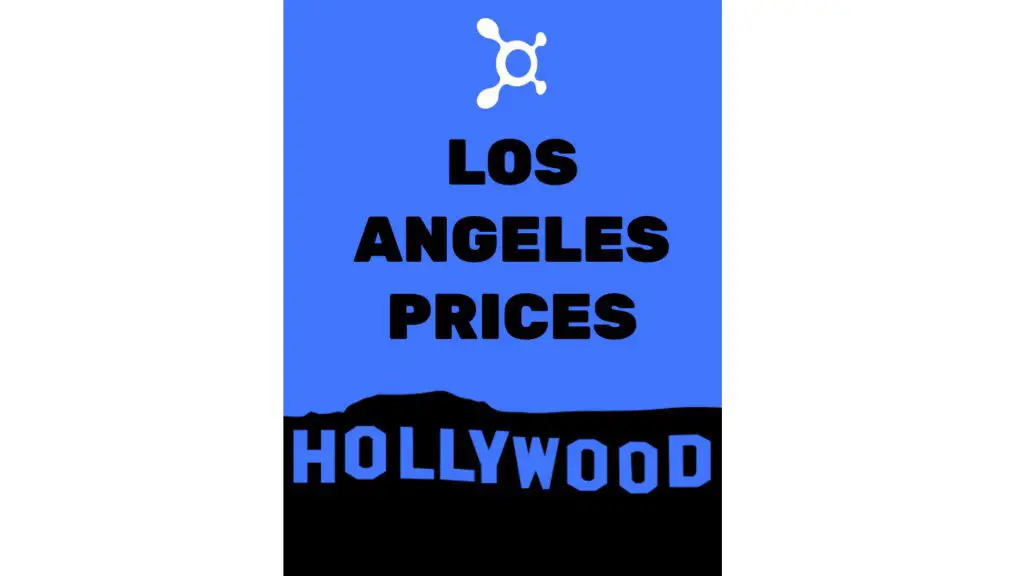 Although there are a lot of variations when it comes to the different prices of OrangeTheory's memberships (location, whether it's considered a premium studio, increases in price, promotions, and so on), I tried to compile a list with the most accurate (but may vary) information about the prices of each studio located in Los Angeles based on what other people pay, and here it is:
| | | | | | | |
| --- | --- | --- | --- | --- | --- | --- |
| Location | Basic membership price | Elite membership price | Premier membership price | 10-class pack | 20-class pack | 30-class pack |
| Long Beach Marina | $69 | $109 | $179 | $229 | $419 | $479 |
| Downtown LA | $89 | $129 | $199 | $249 | $449 | $599 |
| Pasadena | $69 | $109 | $179 | $229 | $419 | $479 |
| Most other locations | $89 | $129 | $199 | $249 | $449 | $599 |
As you can tell from the list, the majority of OrangeTheory's Los Angeles locations vary around the same membership prices of roughly $179 to $199 for unlimited, $109 to $129 for Elite, and $69 to $89 for Basic.
The main reason behind this is that most OrangeTheory's franchises in Los Angeles are owned by the same person, so there is no need for price variations from one studio to another.
It's also a good idea to contact your local studio beforehand in order to get the most accurate information about the prices.
OrangeTheory's Los Angeles Prices vs Other Locations
As you could already tell from the list above, the majority of OrangeTheory studios that are located in Los Angeles have a pretty expensive membership.
Let's do a simple comparison:
On average, OrangeTheory's membership prices in other locations are $59 for the Basic membership, $99 for the Elite one, and $159 for the Premier one.
While on average, OrangeTheory's membership prices in Los Angeles are $89 for the Basic membership, $129 for the Elite one, and $199 for the Premier one.
This means that OrangeTheory Los Angeles prices are roughly 25% more expensive compared to other locations.
The main reason behind this increase is that most OrangeTheory studios located in LA are considered premium locations, meaning that they're based in areas where the cost of living is quite high. And consequently, the cost of maintaining a business will be high as well so they need to increase their membership prices to balance that.
This is also the same for Chicago, New York, Washington D.C., and so on.
OrangeTheory Cheaper Alternatives in Los Angeles
If you find that OrangeTheory's membership prices are too expensive for you, here are some cheaper alternatives that you can try out:
Lit Method
If you're in LA and you're looking for the best quality fitness training at the cheapest price, then Lit Method is your best option.
Instead of breaking your body every time you attend a workout session, this fitness studio designed a unique technique that focuses on building it, how do you say? Well, there is no running involved, no jumping, and no weights used that will only increase your chances of injury. During Lit Method classes, you only focus on low-impact, high-intensity sessions using water rowing, resistance training, TRX, and foam rollers.
And the best part about all of this, the membership costs only $99 per month for unlimited classes.
Lagree Fitness
Have you ever seen those advanced running Pilates machines with a blue glowing light underneath them? Well, those are exclusive to Lagree Fitness which is a studio that's dedicated to targeting muscle exhaustion through modern exercise variations. 
During the 25-minute routine, the highly-trained coach will be in full control of the running machine's position, incline, and tilt for all members at the same time. This alters the difficulty and intensity of the routine while providing a unique way of training.
And if that wasn't enough to convince you, a monthly membership only costs around $179 for the first month.
Conclusion:
OrangeTheory's membership prices may be expensive in Los Angeles, but at the end of the day, every last dollar that you spend should be considered an investment since you're improving your health, body, and getting one step closed to your goals. If those steps come at a certain price, then it's well worth it.